Gender Talk 211 dedicated the month of March 2020 to honoring 30 South Sudanese women and their efforts to challenge gender norms and contribute to creating change globally. The commemoration was under the theme 'Women's Month30' using the hashtag #ChooseToChallene leading to International Women's Day on March 8th through the end of the month. The women and girls featured are from different backgrounds and fields, including media, entrepreneurship, the creative arts, sports, and athletics. They are listed based on the order in which they were featured.
Abuk Lual chose to challenge Child and Forced Marriage.
In Dec 2020, 16-year-old Abuk in Aweil was forced into marriage and decided to challenge the common cultural practice by suing her parents and seeking legal support. "Since I opened the case, I have been disowned by all my relatives. I am now staying at the police station. The government should arrest parents who force their girls into marriage," stated Abuk in a report by Eye Radio. Child & forced marriages are a common practice within the South Sudanese communities and of recently been used as business transactions to survive poverty. The practices violate human rights and are a form of Gender-Based Violence, harmful and abusive to girls and women in South Sudan. Abuk's case is a rare one considering such practices remain unchallenged. We commend Abuk for her courageous act, condemnation of the negative culture, and leading us all by example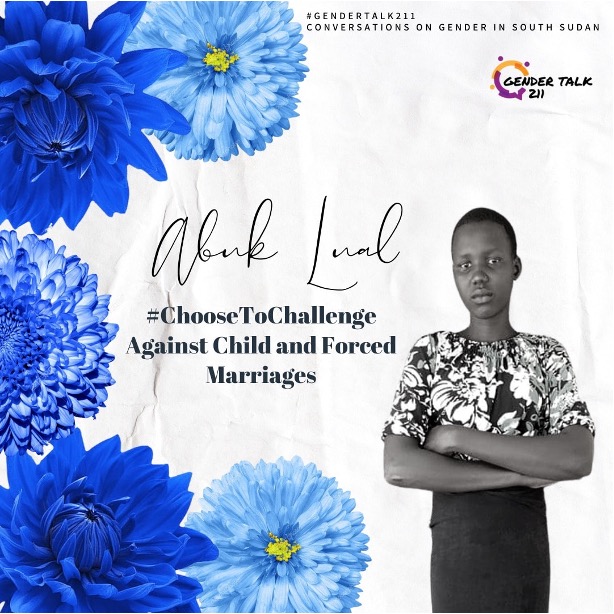 2. Victoria Yar, 1st Southern Sudanese Woman University Graduate (1945-1979)
Yar was a Politician and a distinguished and tireless campaigner for girls' education and women's rights, breaking gender, and social norms in Southern Sudan. She developed a keen interest in education as a vehicle for gender equality in the South Sudanese societies and, through her academic success, changed specifically how Dinka parents perceived girls' education, eventually changing the lives of many girls. Later in her life, Yar joined politics through the Sudanese Women's Union and was elected a Member of Parliament to the People's National Assembly in Khartoum in 1973. Her life was marked by several firsts: the first South Sudanese woman University graduate and the first prominent woman politician in the then Southern Sudan. In the parliament, as one of the few women parliamentarians at the time, she was an outspoken advocate of family issues, girls' education, diversity, and gender equality in public life.The efforts and legacy of Victoria Yar will forever be an inspiration to generations of young girls and women in South Sudan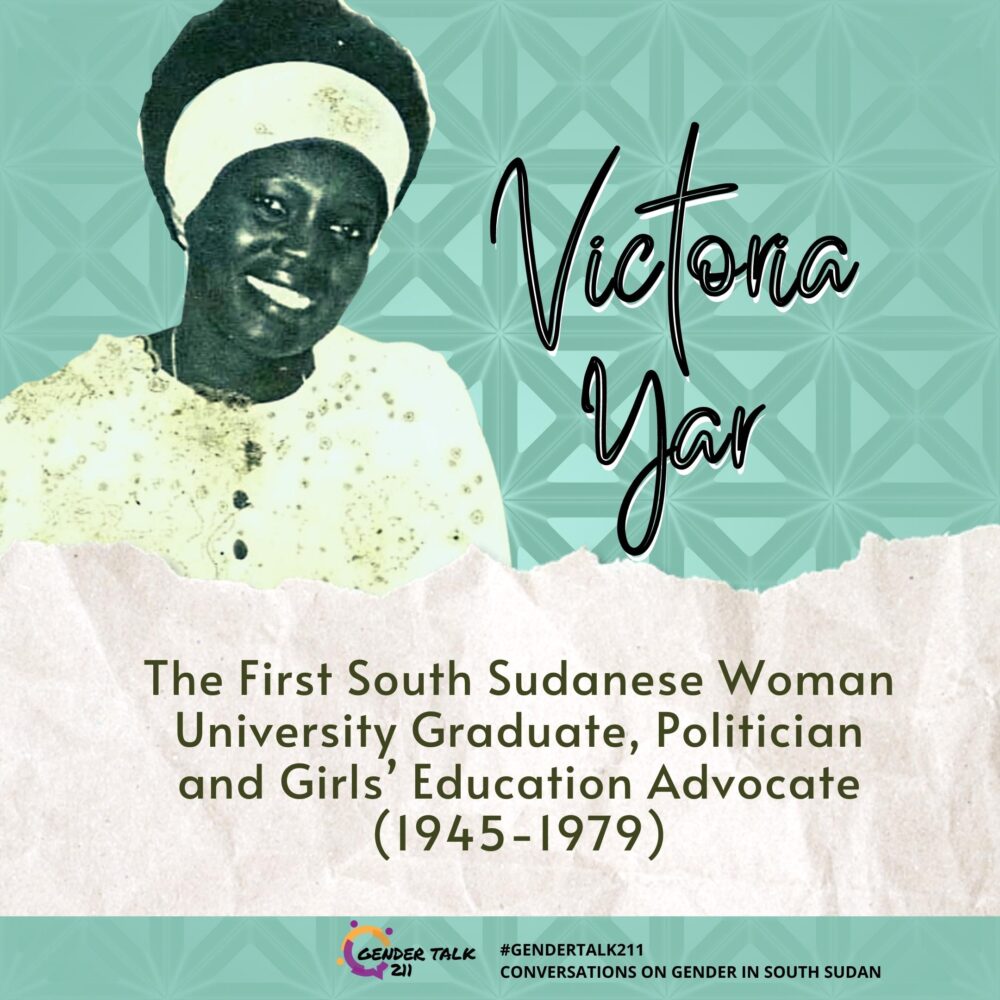 3. Lasu, Captain Juba Superstars Football Team
Amy discovered a passion for football at seven as she often joined boys to play football around her neighborhood. She joined her 1st academy at the age of ten in the South B area in Kenya. Shortly after, she played professionally for Premier League side Gaspo Fc and later Makolanders Fc in Kenya. When she received to join the national team, she moved home and currently plays for Juba Superstars in the South Sudan Women's National League launched in February this year, and she became the team captain. On South Sudan Women's National League "It was a big deal for me because it's something that has never happened in the history of women's football in South Sudan. I always dreamt that South Sudan would one day have a women's league just like the other countries, and my dream came true." Amy said. "I'd like to ask all South Sudanese to encourage their girls to come out and play. Sports are not for men only but everyone. It is also good for them because it will keep them healthy and away from early marriages and unwanted teenage pregnancies." Captain Amy's effort has been one of the reasons why the Women's National League came into existence. Her passion for the sport and girls, in general, found its way in playing the game, excelling within, and advocating through it. We see Amy as an inspiring and celebratory figure in her field and other areas.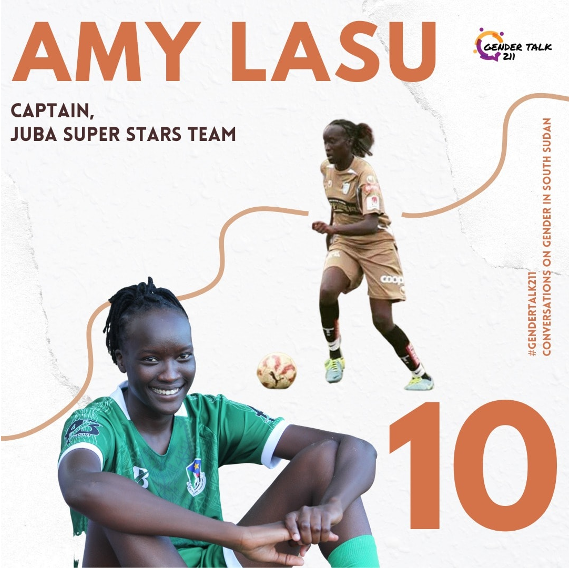 4. Abul Oyay – Painter
Inspired by strong women around her, Abul is a renowned artist and an activist who uses art to depict the struggles of South Sudanese. She is the founder of the Baobab Art Foundation. Over the years, Abul has showcased her artwork in the form of a series in support of women, art, culture, and the many communities of South Sudan. She has provided spaces for artists and other creatives to create and showcase their work. During these challenging times of COVID-19, the Baobab gallery has served as a focal point of basic needs donations such as food, clothing, soaps, and masks to assist communities around Juba. Today we feature the work of Oyay Abul and commend her efforts to build the field of creativity in South Sudan.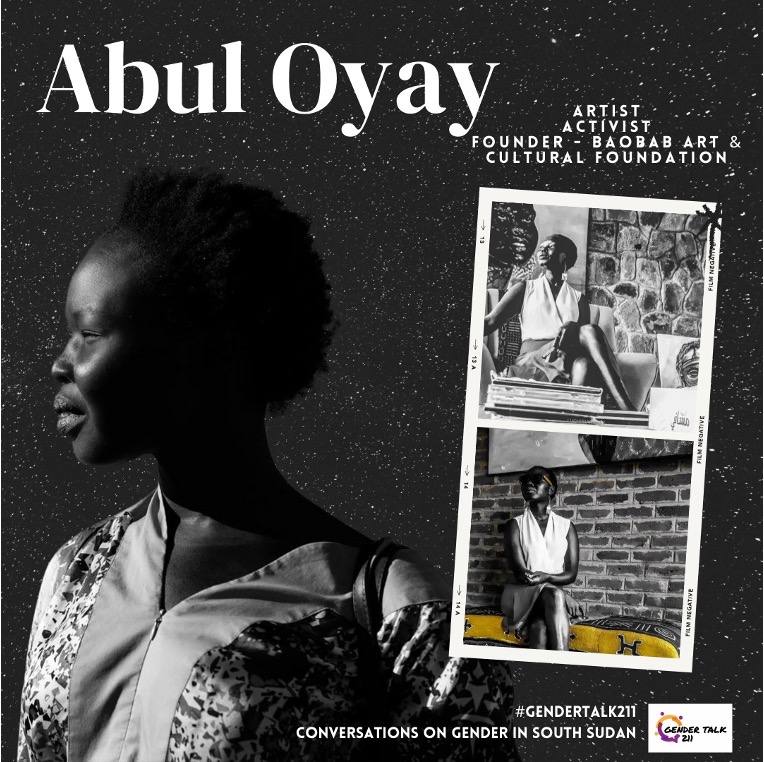 5. Maura Ajak – Journalist
Ajak is an investigative journalist at Catholic Radio Network and a freelance with other media houses. She is known for her fierce coverage and reporting on human rights violations in South Sudan, focusing on sexual violence, especially against children, girls, women, and persons with disabilities. When South Sudan shut down in March due to COVID-19, risk mitigation measures to prevent the spread of the virus, including lockdown, restrictions of movement, and social gatherings, posed a significant challenge to journalists and media houses across South Sudan. Maura has been one of few journalists the digital platforms relied on for accurate updates on COVID-19 and other issues across the country. Community Empowerment for Progress Organization (CEPO), a local civil society group in South Sudan, awarded Ajak Human Rights Defender of 2017. This award was in recognition of her incredible work and commitment to documenting and reporting on sexual assault crimes that contributed to holding the government of South Sudan accountable. She also recently won the African Women in Media Pitch Zone Award 2020 for her work on peace and governance in South Sudan. As we celebrate women who #ChooseToChallenge this week in observance of Women's Month, we'd like to highlight and commend Maura Ajak for her outstanding efforts in media in South Sudan.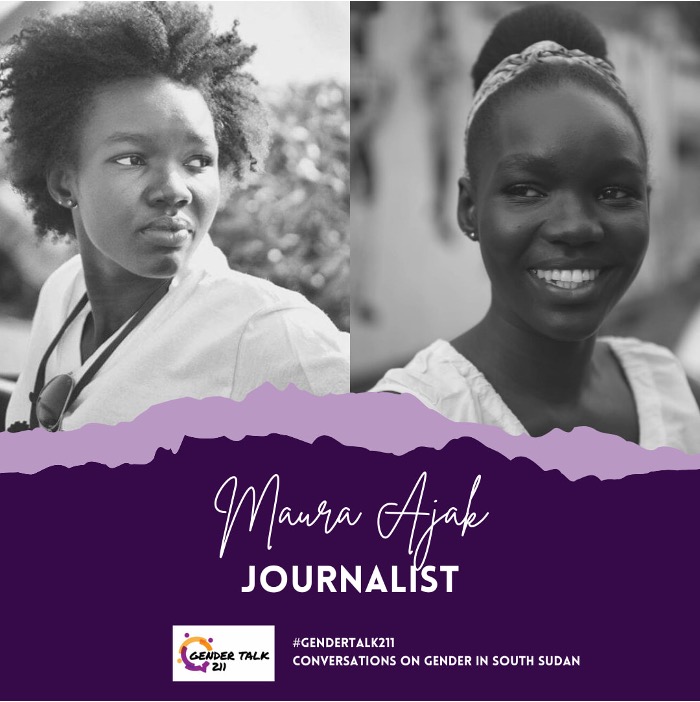 6. Grace Tabu – Fashion Designer
In Mar 2020, as South Sudan went into lockdown, Grace Tabu was the first to present the idea of reusable, washable & more importantly, affordable masks when she realized mask prices had become too high for the ordinary citizen in South Sudan. The young designer called on other youth within her field to join her and contribute to mitigating the spread of COVID-19 by making affordable reusable masks. Later her regionally adopted idea became the most successful business for many more in South Sudan. Grace is a successful fashion designer and owner of Teddy Gracious, a good and mainly Kitenge-based fashion house. We commend her efforts and quick thinking in providing affordable reusable masks to communities in South Sudan.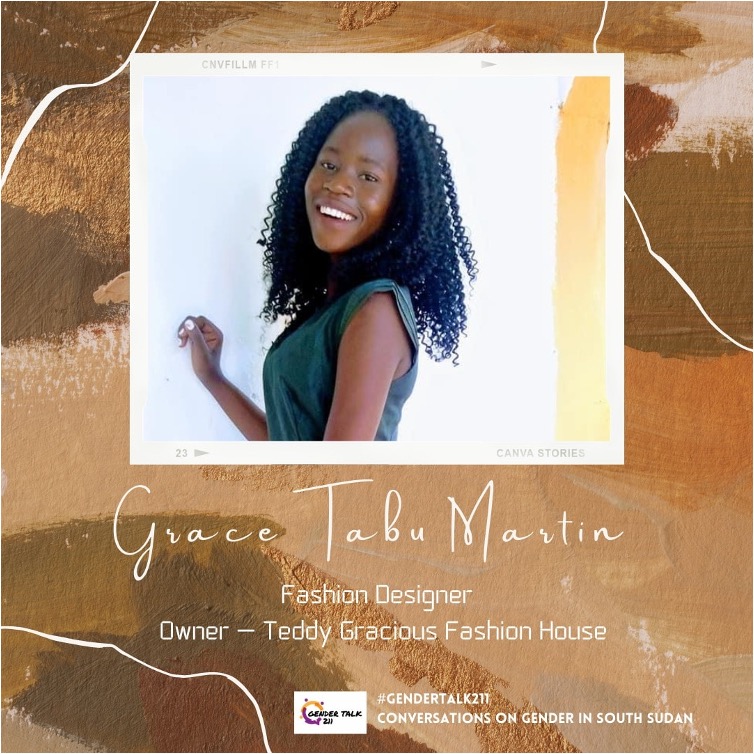 7. Dr. Pauline Riak -Professor and Founder of Sudanese Women's Association
Dr. Pauline is the first of only two women professors at the university level in South Sudan. Her lifework started during the struggle for the Independence of South Sudan and ranges in fields from academia to the private, public, and social sectors. She is the Deputy Vice Chancellor for Academic Affairs and Research at Rumbek University of Science and Technology in Lakes State, South Sudan. Dr. Pauline is a trained and experienced mediator in gendered and inclusive techniques for sustainable peacebuilding. She is a signatory to the Revitalized Agreement on the Resolution of Conflict in the Republic of South Sudan 2019. She also serves as the chairperson of the Board of Directors of Sudd Institute, one of the leading think-tank research organizations in South Sudan. In 2019 she was appointed to UN's Secretary General's High-Level Panel on Displacement. Her initiative, the Sudanese Women's Association in Nairobi, mentored the growth & empowerment of over 800 women in exile during the 1983-2005 Sudan civil war. We applaud Dr. Pauline for her efforts in transformational leadership, her passion for women's education, and peacebuilding that educated and empowered over 3000 women across the nation and inspired South Sudanese girls at large.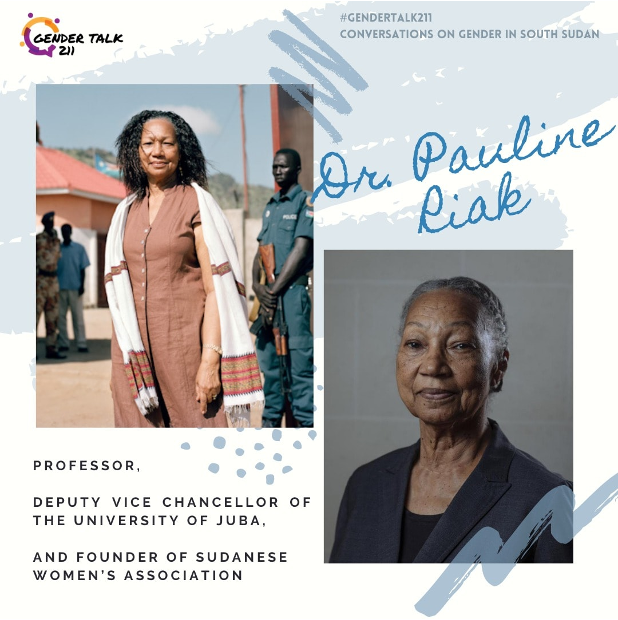 8. Estella Malek – CEO Aram Weer
Estella created Aram Weer, Shea Butter-based products for skin and beauty in South Sudan. The brand became successful shortly after its introduction to the local market and is now exported regionally. Aram Weer is locally produced and popularly known for its smooth feel, scent, and South Sudan flag-based packaging. It has received multiple reviews for being helpful to those suffering from eczema and other skin conditions. The brand employs several South Sudanese who support extending delivery services to customers within Juba and digitally building an online platform. We commend Estella as an entrepreneur who not only was successful in creating a local brand for all but encouraged other South Sudanese, especially women, to create their own.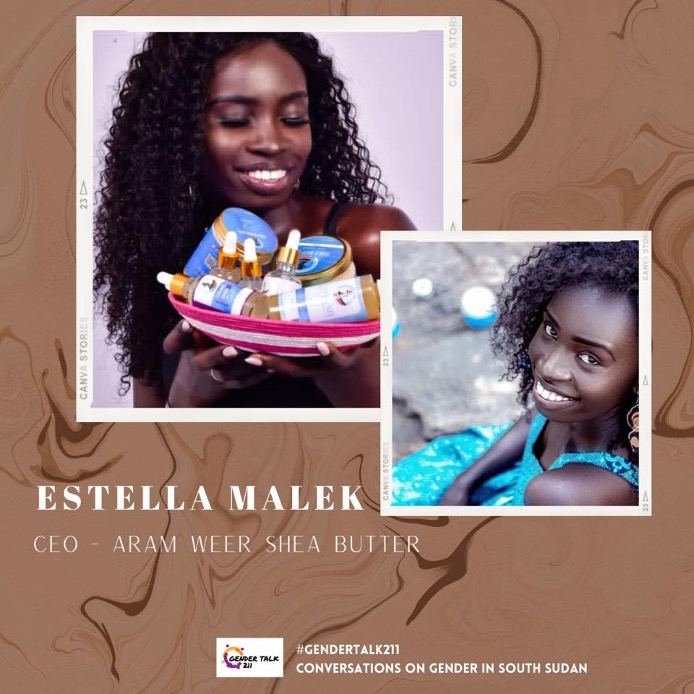 9. Monica Jabe, Boxer
In 2014, Monica visited the youth center in Juba, where she picked interest in boxing. She started training and eventually became one of the first South Sudanese women to box professionally and excel in the sport. The boxer is a gold medalist and a belt holder. She earned a certificate from the boxing committee so far in her career. She believes boxing to be a great skill to learn and a sport that helps girls and women defend themselves. We are inspired by Monica and her journey and encourage women to join this specific sport or any other male dominant sport without fear because you CAN.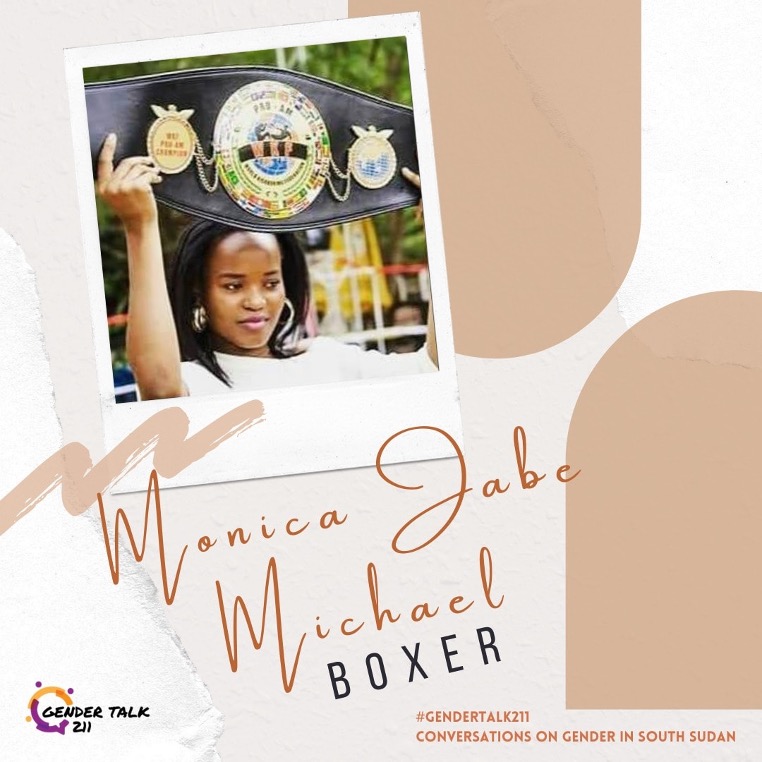 10. Jenifer James Ogawi – Multimedia Journalist
Jenifer is a videographer at Dolku Media and a news reporter at Top FM. She is one of the few professional women videographers in South Sudan. In 2020 devasting floods affected mainly counties along the River Nile corridors, including Bor, Bentiu, and Malakal. Jenifer was one of the lead journalists covering and reporting the impact of the floods, especially on women, children, and older people in Bor. "My mission in Bor wasn't only to report on the flooding but to emphasize the desperate need for the government to respond to the situation of the people." She spoke. One of the most memorable images on South Sudan social media in 2020 was Jenifer videotaping while kneeling on floodwater as she captured a five-year-old attempting to cross the water. The image went viral, which drew attention to the role of South Sudanese women in media. We applaud Jenifer for her efforts and humanitarian coverage of the Bor flooding and its impact on the people, especially during the COVID19 challenging times.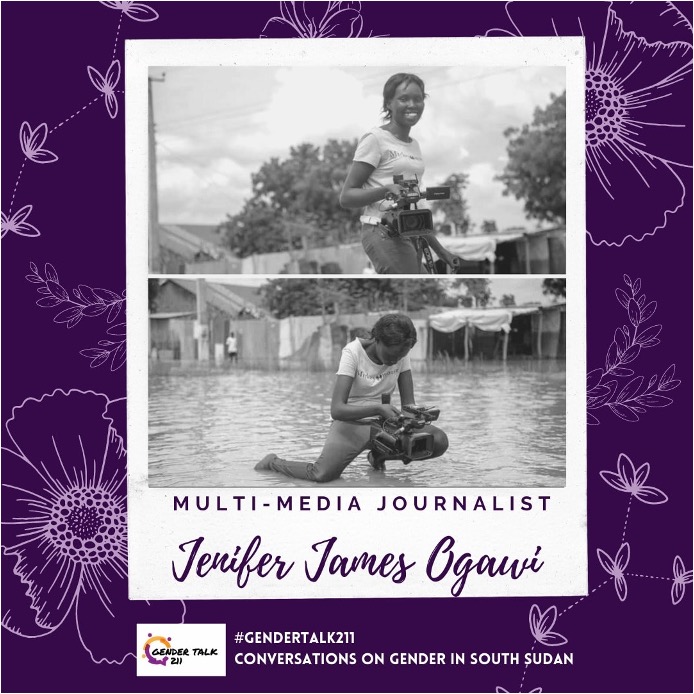 12 & 13. Yine Yenki and Eva Yayi – Founders of GoGirls ICT Initiative
Yine Yenki and Eva Yayi founded a non-profit initiative focusing on Computer Science, Information Systems, ICT4D Innovation, hacktivism, and peacebuilding. In March 2020, the initiative introduced GoGirls Learning Podcasts. In this pre-recorded learning program, they teach several learners science subjects to enrich the love & practice of science in primary & secondary school students. "We believe that despite the limited resources and poor infrastructure in South Sudan, we as innovators could still create solutions which could benefit a community and adopted into other communities across the nation and still be relevant post-COVID era." Says Yine. GoGirls' team and a few teachers continue to research & converse on how best to introduce students to virtual learning platforms. We celebrate GoGirls who #ChooseToChallenge through Digital Media to benefit South Sudan.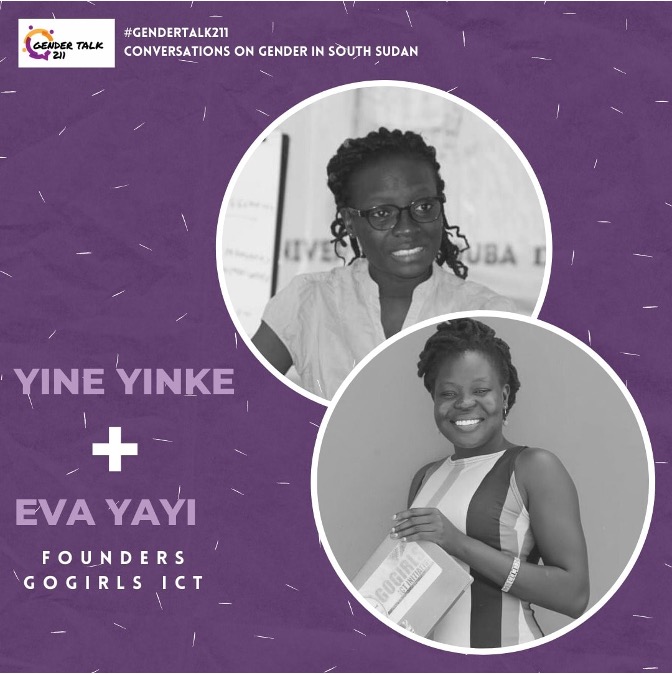 14. Juan Mule – Fact Checker, 211 Check
Fact-checking is a process that involves evaluating claims of public relevance uttered by individuals, organizations, and the media. This is done by gathering views or information from experts, academia, and government agencies. Juan is a part of @211Check & Africa Fact-Checking Fellowship, Cohort 1. As a team member under the fellowship, she has monitored social media daily and fact-checked various disinformation content, especially Covid-19-related information. The fact-checker is one of the lead projects to carry out meetups and forums aimed at students or journalists on fact-checking misinformation related to Covid-19, health information, and fact-checking in general. We'd like to highlight Juan Mule's efforts of fact-checking at a time accurate information, especially on health, is key to protecting or saving a life globally.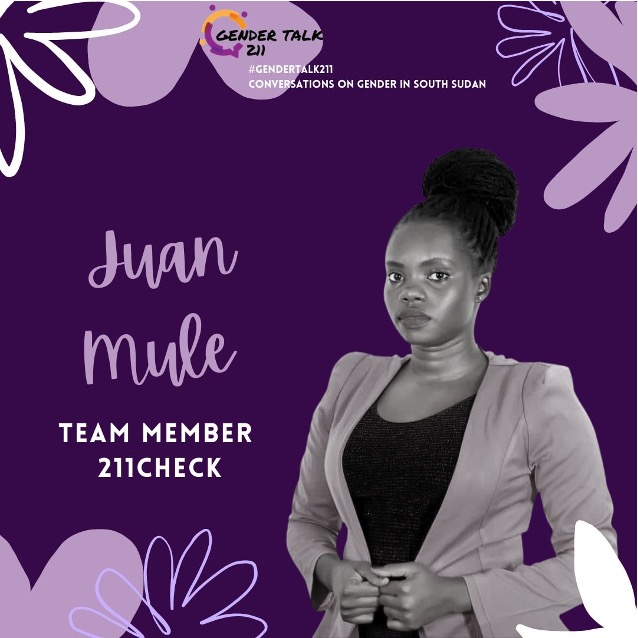 15. Sarah Marlyn – Owner, Sarita Cakes
For the love and passion of baking, Sarah introduced Sartia Cakes to Juba in 2014, which later transitioned into a successful order and delivery home bakery service-based business. "This business is challenging, especially with the unstable market prices & quality being the main ingredient of my services. Some people sometimes find my prices high, but I can't compromise the quality to offer low prices." She shared. The small business is currently training a group of women how to bake & do decorations services Sarita Cakes offers clients. The trained group will later be employed by the small business or could start businesses of their own. We applaud Sarita's efforts as a businesswoman, providing local baking services and, more importantly, training other women to join her path and start their own.
16. Aweng Chuol, Fashion Model
In recent years, a few South Sudanese names climbed up the fashion world & one of those names is Aweng Chuol. The model is known for her beautiful & unique features but, more importantly, her advocacy. The model is one of the first South Sudanese women to live her true self as a lesbian unapologetically. Last year after announcing her marriage to her wife, Aweng received homophobic attacks and backlash from South Sudanese communities but stormed through it. Despite the societal pressure that caused the young model a mental break, Aweng continues to exude strength by voicing herself on the importance of gender equality and inclusivity. We support Aweng and are inspired by her brave choice to be who she is and love whom she wants, all while advocating through her platforms for others to have the right to sexuality and freedom from discrimination based on sexual orientation.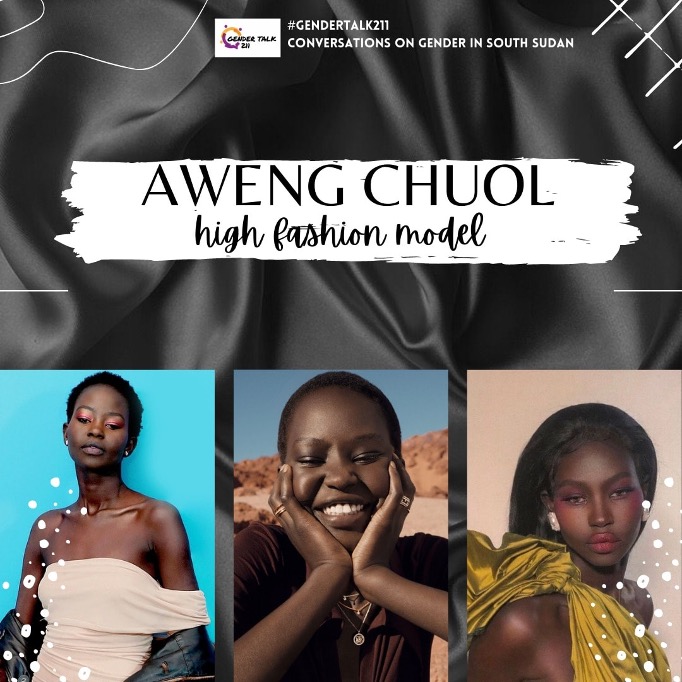 17. Winnie Cirino – Freelance Journalist
Winnie is a journalist with Voice of America (VOA), South Sudan in Focus Program. Her career focuses on stories ranging from political, economic, health, and human rights to social and security. Winnie previously worked with South Sudan Broadcasting Corporation (SSBC), Equatoria Broadcasting Corporation (EBC), Radio Bakita, and Citizen TV, among other media houses. She recently became one of the lead voices in traditional and on social media with instant and regular updates on all public issues, especially COVID19 and social affairs of daily concerns. "When I saw some of my reports on issues such as health, land grabbing, and garbage collection processes made positive changes to some people or societies that were affected, I was happy. That's all I can hope for and contribute, be informative but of assistance," she said. Today we hail Winnie's efforts through both traditional and digital media. We are inspired by her will to #ChooseToChallenge and create change by being amplifying voices of the people.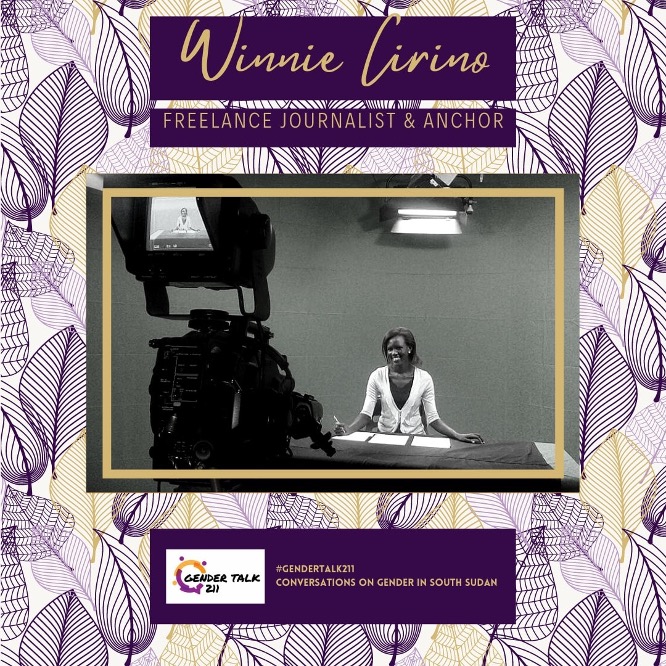 18. Aker Benjamin – Founder, Benji Cosmetics
Aker is a make-up artist and one of the first South Sudanese women to create a brand of fun, innovative, and quality make-up products for us. She is a Health and Beauty Content Creator focusing on African women, providing tips, products, tutorials, and recommendations through her digital platforms. In a country where the beauty market depends on products from the region, products that rarely cater to South Sudanese women's different shades of black, efforts to create our own are necessary. Not just for beauty purposes but making every skin tone feel loved by availing products for it. Today we emphasize Aker's efforts within the beauty field and the bold choice to challenge by creating products for South Sudanese and African women.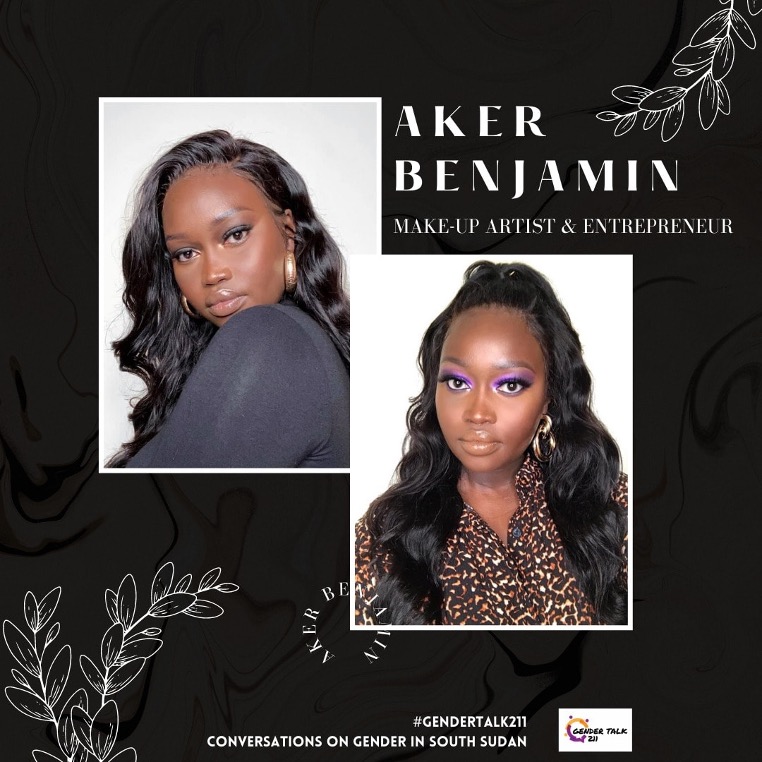 19. Matilda Rong, Founder – Little Party Fairy
Two years ago, Juba was introduced to Little Party Fairy, which later became a trusted & successful small decorations business. Matilda grew up with a simple interest in decor & now made a career. "My work is about creating beautiful & unforgettable memories for events. It feels good to plan and organize everything, but most of all, to make people's visions come to life. Some have new visions; others want to recreate memories. I am happy to help with both," she said. Matilda employs two people and hires others based on events demands. As she plans to expand her business into decorating more significant events, she looks forward to using more South Sudanese women and men on more extended contracts. We commend Matilda's efforts as a small business owner, making others' visuals a reality, all while opening a space for job opportunities for others.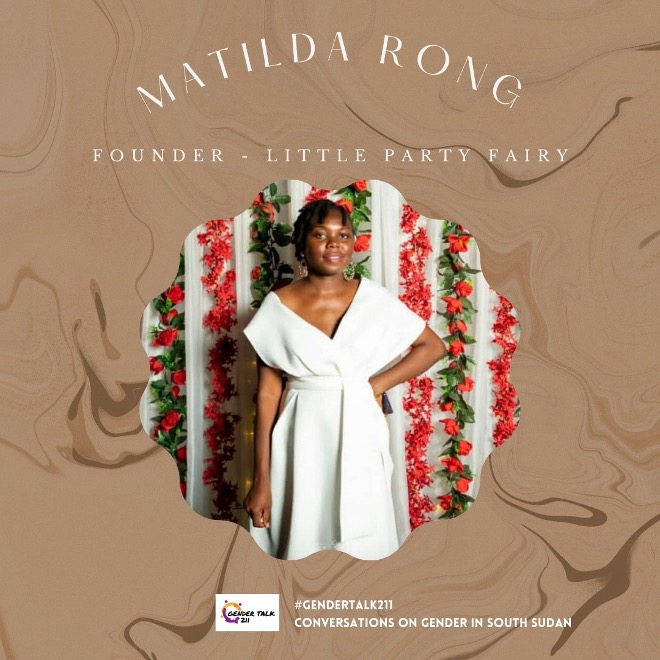 20. Caroline Atim – Director, South Sudan Women with Disabilities Network As a person with a disability herself, Caroline found passion in advocating for persons with disabilities from a young age. She is the Executive Director of the South Sudan Women with Disabilities Network. Women and girls with disabilities are particularly at risk of violence and more likely to experience sexual violence, emotional abuse, and sexual assault than women without disabilities. Women with disabilities are often silent and unable to report abuse because the abuser is more likely the caretaker. They are exposed to the same stigma, discrimination, and inequality based on age and gender as other girls, boys, women, and men. Yet, those factors are often overlooked as families and communities prioritize disability-related needs. "The government needs to sign, ratify and adopt the Convention on the Rights of Persons with Disabilities (CRPD) framework in promoting the rights of persons with disabilities. If the government domesticates these instruments, this will reduce f sexual assaults, exploitation, and exclusion of persons with disabilities. There is also a great need to represent persons with disabilities and promote an inclusive environment." Says Caroline. Caroline has not only created awareness but impacted many through her advocacy. Her efforts to make a difference are inspiring, and there is a need for a collective and joint demand for the protection and inclusion of persons with disabilities, especially women.
21. Grace Bullen, Freestyle Wrestler
Grace is a 24-year-old South Sudanese Norwegian born in a refugee camp in Eritrea. At the age of four, she took up wrestling in the martial arts club, that later developed into a passion she pursued as a career in athletics. The freestyle wrestler is a two-time gold medalist at the European Wrestling Championships and obtained various silver and bronze medals in her career. In March 2020, she competed at the European Qualification Tournament in Budapest, Hungary hoping to qualify for the 2021 Summer Olympics held July – August in Tokyo, Japan but unfortunately did not qualify. Grace's drive and passion for wrestling are inspiring, and we applaud her for her achievements within the male dominant sport.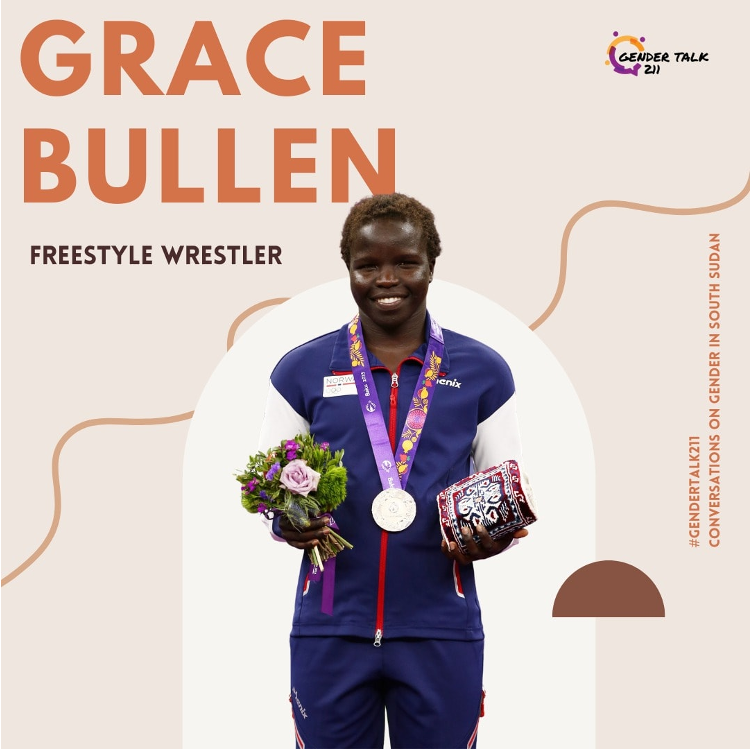 22. Maria Lotua – Director, Premier Group
Premier Group is the biggest women-led construction company in South Sudan under the guidance of Director Maria Lotua, an entrepreneur and a dedicated woman to development and nation-building in South Sudan. Maria went from growing up in a refugee camp in a neighboring country to owning a construction company in a dominantly male field. The company is a subcontractor in the Juba – Bor highway project, among other significant projects across the country, many of which are already completed. The entrepreneur has been a voice of encouragement for young women entrepreneurs starting their businesses and giving employment opportunities to South Sudanese within Premier Group. We are inspired by Maria's journey and success and look forward to seeing her breaking more barriers in her career as an entrepreneur in South Sudan in different fields.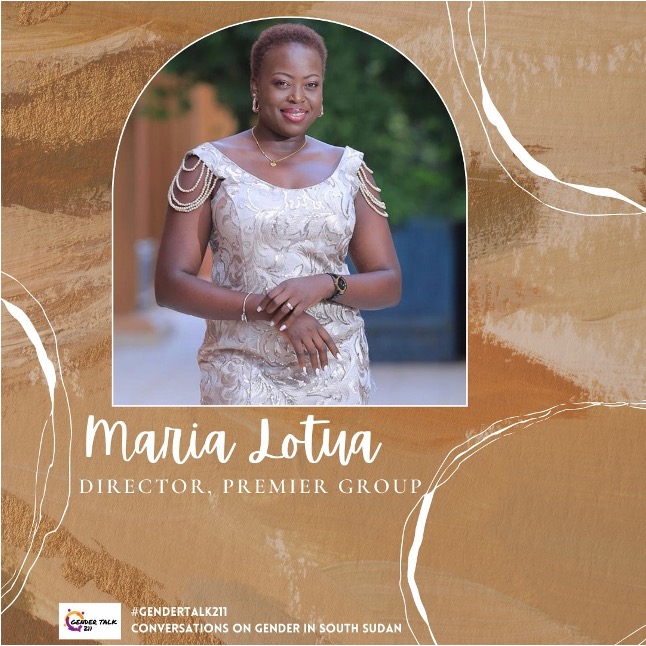 23. Florence Thompson, Nurse
While pursuing a medical degree, Florence experienced financial difficulties, paused, and obtained a nursing course certificate she could afford at the time. Upon completion, the young nurse volunteered at Juba Teaching Hospital during the day and the Military hospital at night to gain knowledge of Nursing as a profession. In March 2020, as South Sudan's first COVID case was announced, Florence was at the frontline of combating the virus. Since the outbreak of COVID-19, nurses have been some of the most exposed health workers due to their direct contact with patients and the shortage of protective equipment in South Sudan. Realizing the above, Florence took it upon herself to attend to, support, and create awareness of the virus and advocated for the sick and their families. On women pursuing a nursing career, "It's difficult, especially at these times, but an important one. Never stop learning; technology and the profession continue to expand and grow daily. Challenge yourself to obtain the specialty certification in your area of specialization. When you do, your profession transforms into your passion. When it becomes your passion, the term job transitions to joy. I wish you the best." Florence encouraged young women to pursue a nursing career. We not only applaud Florence for the great work she does within the South Sudan communities, but we also admire her spirit and will to continue progressing to help others.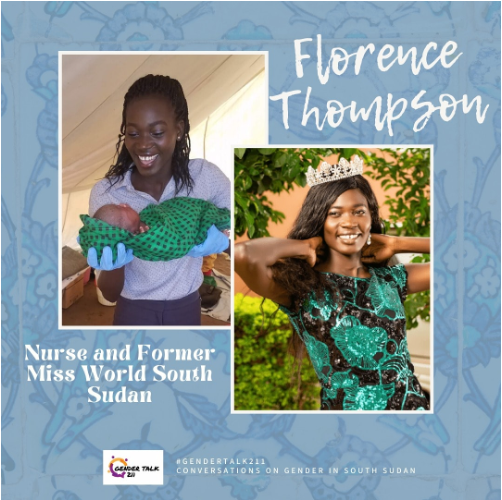 24. Aluel Dim Deng, Entrepreneur and CEO Corp General Trading Ltd
Upon return from the UK in early 2020, Aluel aimed to channel her career to contribute to the development of South Sudan. She founded Corp General Trading LTD, a company that offers various services focusing on international logistics, office & coach hiring & branding. "One major factor that I regarded highly when creating this company was to make sure I was able to hire South Sudanese youth, even if unqualified, they will go through an extensive training course to become qualified and make sales to local consumers on the basis that my margins are suitable to the current economic situation. I have achieved these things and will continue to do so." says the young entrepreneur. She continues, "Gaining trust from consumers in a country where entrepreneurship is mainly male-dominated, creating a space for women entrepreneurs is not easy, but with firm perseverance, determination and genuine effort, this narrative will change with time." Aluel is an inspiration for us and all South Sudanese women pursuing a career in entrepreneurship. We applaud and commend her efforts within the business sector and look forward to more of her achievements in the future.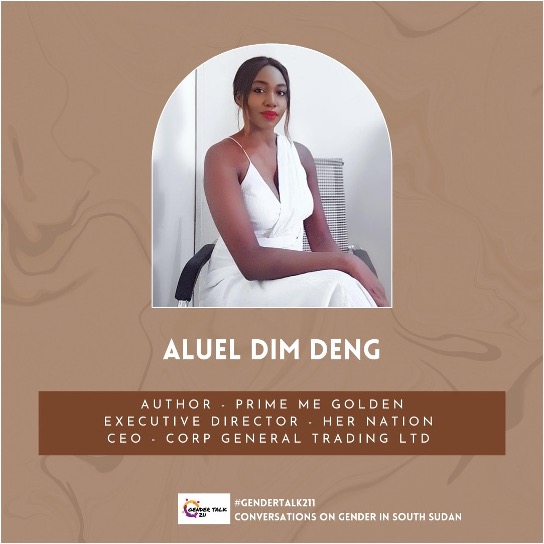 25. Ajok Kuol – CEO AKM Trading & Investment
Ajok Kuol discovered herself within the business sector by being experimental. She sold fuel, opened a salon/barbershop, a tailoring shop, started an IT institute, construction, & eventually agriculture. "In agriculture, I hope more South Sudanese can adapt farming on large scales to the point that we become self-sufficient to feed ourselves, create food industries and export the surplus." Says Ajok. The entrepreneur had a dream of becoming an architect. Although she did not pursue the field academically, she hasn't fallen far off. Ajok partners with a construction company on specific projects that lead her to projects where she can exercise her architectural skills. "On challenges, I must acknowledge gender inequality as a key issue. We should create an equal playing ground for both men and women. So, in this month of International Women's Day, I choose to challenge gender inequality." She added. AKM currently employs over 30 people, and 90% of the workforce are South Sudanese Nationals. We are inspired by Ajok's drive, tapping into the deserted but critical sector of agriculture and, most important, challenging through advocating for gender equality within her field.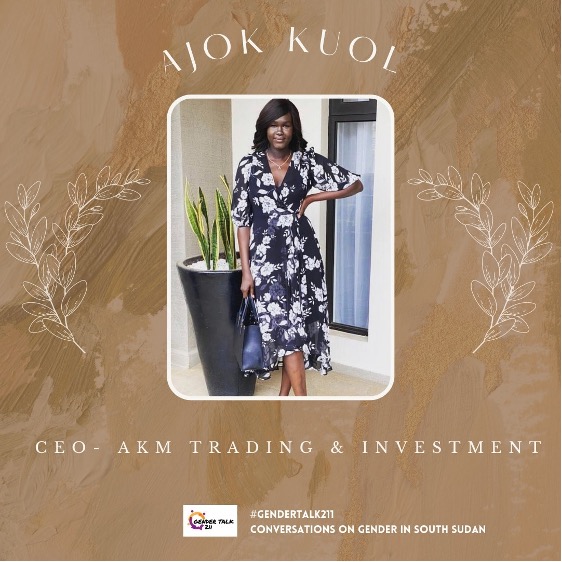 26. Sarah Chan, Manager – Africa Scouting – Toronto Raptors
From a young age, Sarah Chan found love and passion in basketball, and the sport fit her. She played in a couple of Africa Women's Championships before volunteering at Giant of Africa Basketball Camp in 2017, Kenya. While at Giant of Africa, she met Masai Ujiri, Raptors President. Later, her work ethic and dedication would lead her to become the first African woman to be the manager of an NBA Franchise. As our 30th and the final figure for #WomensMonth30, we celebrate Sarah Chan and are inspired by her achievements.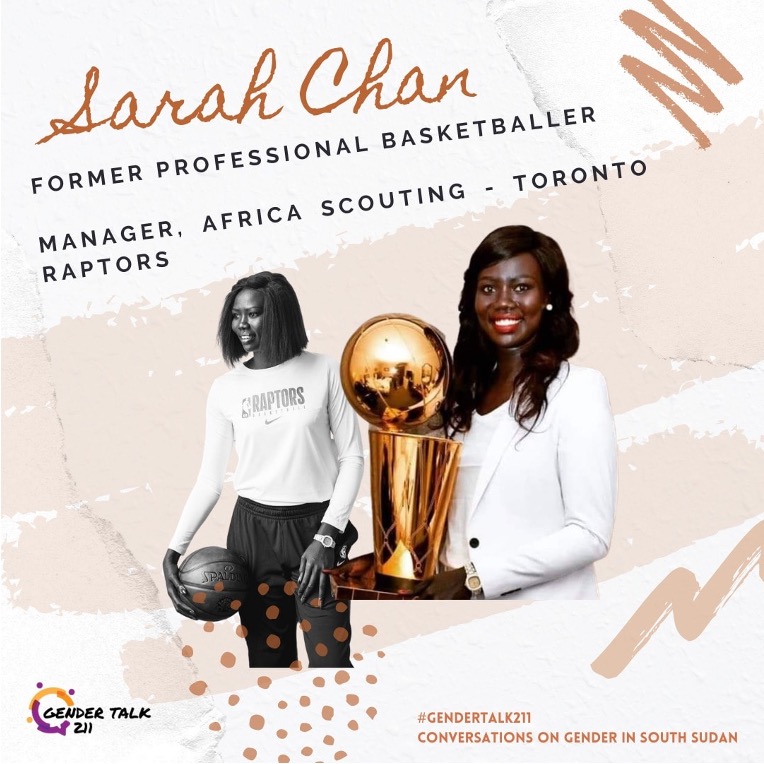 27. Nyachangkouth Tai, Co-Founder Mother Care Organization Nyachangkouth Co-Founded Mother Care Organization, a Feminist organization, founded by women with a focus on child protection, education, women's peace and security, and protection in the South Sudanese communities. The Women Rights Activist landed an Africa Focus Award 2021 in recognition of her immense contribution and services in South Sudan and Africa. "The Award has put a price tag on my back; it has put me in a position to double all the efforts I made fighting for women's rights. This award is a new challenge that I could do better. It's a sign of hope and a seed of investment," says the Activist. Nyachangkouth plans to work on women's inclusion in the peace processes, primarily through mediation, and mentor young girls on leadership as she continues to fight for the South Sudanese and African women. "In 10 years to come, I'd like to be in spaces the girl child was told she could never reach. I hope to be an inspiration for girls to dream big and never give up," she added. Congratulations to Nyachangkouth on the well-deserved award, and we thank her for her continuous efforts and contributions to improving the South Sudanese woman's life.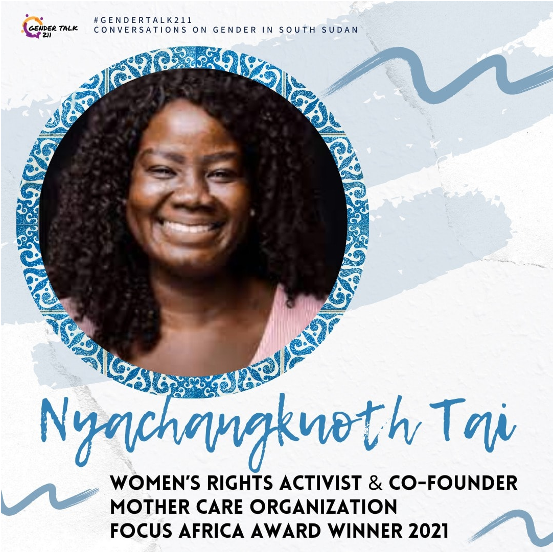 28. Akuja De Garang, Girls Education South Sudan (GESS) Team Leader
From a young age, Akuja grew up with a supported passion for education. As she walked to school in Juba, she noticed young girls who weren't attending school. Later Akuja understood that not all girls grew up with supportive parents and financial means to go to school and decided to challenge that by ensuring the younger generation of South Sudanese girls would have better opportunities. Akuja is the GESS team lead, an inclusive programme transforming the lives of a generation of children in South Sudan, especially girls and those on the margins of society– through education. "In terms of the cash transfers, during the design of GESS in 2012, the needs assessment revealed that poverty was the key barrier to girls not enrolling, attending school, and dropping out before completing their education. As such, it was decided that there needed to be an intervention that addresses this financial barrier, and the cash transfer scheme for girls' education in South Sudan was born" Akuja. GESS cash transfers give girls and families the freedom to decide their unique needs to access education. This is opposed to providing predetermined items such as school bags or shoes – which assumes everyone has the same need. On COVID-19 Challenges "The immediate challenge is the extended closure of schools due to the COVID-19 pandemic. The longer the girls are out of school, the higher the risk is that they will not return and are at risk of early and forced marriage and early and unintended pregnancy. For example, a recent mapping revealed that about 4000 schoolgirls became pregnant across the country between March and December 2020," says the team leader. GESS paid cash transfers to girls in 2020 despite school closures to challenge the mentioned risks to provide a safety net, a deterrent to prevent them from being pushed or pulled into early / unwanted marriages or pregnancies. "To parents and communities of South Sudan, your girl-child's education is just as worth investing in as your boy-child. Suppose you educate both your son and daughter. In that case, you double the chances in terms of the returns you will reap when they grow up, become productive members of the society, and support you as a parent, the community, and contribute to the development of South Sudan." Akuja continues to emphasize the importance of investing in their education and ensuring girls are safeguarded from violence and abuse at home, in the community, and at school. Akuja's efforts and continuous support of the South Sudanese girls give us hope for the next generation of South Sudanese women.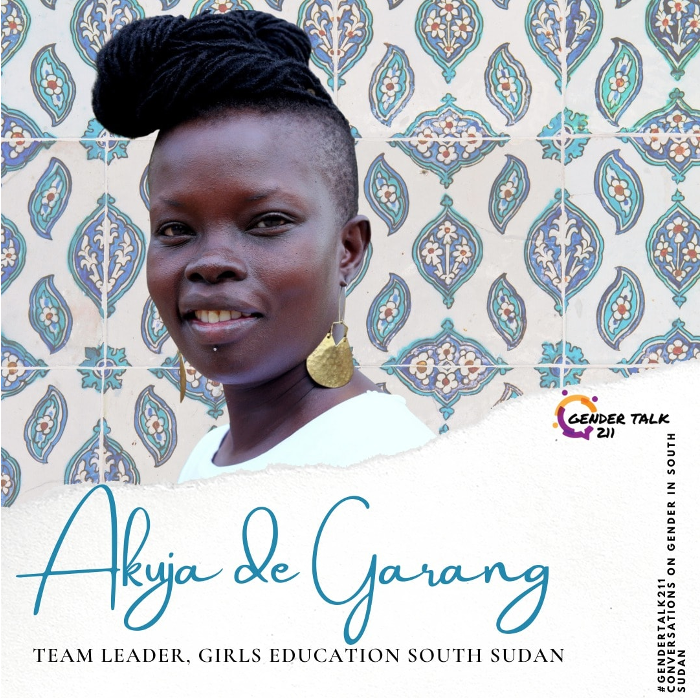 29. Arek Deng – Retired Basketball Player / CEO Luol Deng Foundation
Arek started an early career in Basketball back in 1995 – 1999 when she first arrived in the UK. The BA in International Relations graduate enjoyed a decade-long successful basketball career playing for different teams, from U16-U18 to University level professional basketball, including coaching at Sevenoaks Suns in 2011 & later in other parts of the world. The former athlete is currently the CEO of the Luol Deng Foundation. A foundation that focuses on developing children & teenagers' leadership skills through education and sports. The CEO's life's work as a former athlete and current continuous support is inspiring for aspiring young athletes, especially women. We commend her for her efforts within the space of sports.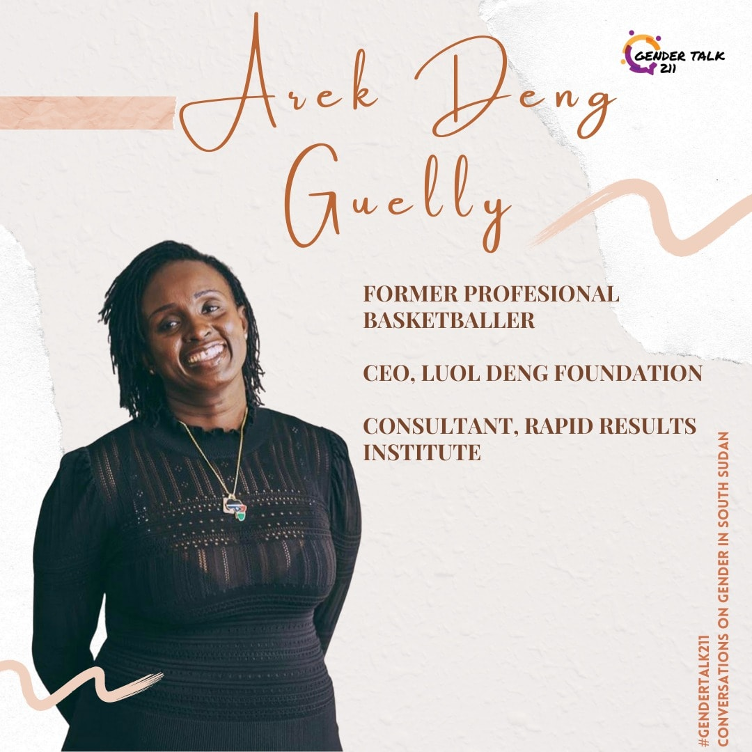 30. Lorna Merekaje, Human Rights Activist / Defender
Lorna is the executive director of the South Sudan Democratic Engagement, Monitoring, and Observation Programme (SSuDEMOP). This civil society organization focuses on women in leadership and engagement with the security sector. With passion and belief that human rights are inherent for all human beings, Lorna chooses to challenge in different spaces by focusing her career on advocating for and educating on human rights, especially Women's Rights, as provided in the Bill of Rights of South Sudan's constitution."My intention is to one day see a country where South Sudanese women enjoy equality as their male counterparts. This will demonstrate the actual meaning of being a citizen and enjoying full rights." – Lorna said. On Women in Leadership, "This requires commitment, consistency, patience, and persistence with clear objectives to achieve within a given time frame. One needs to understand the requirements of the space they're getting in, define their objectives for getting into the space, know that they are equally important for the space, and assert themselves by making tangible contributions (your added value)," says the advocate. In 2020, Lorna was among the fifteen winners who received the German French Human Rights Award for advancing the rights of the vulnerable. We applaud and commend Lorna on her efforts and activism for human rights in South Sudan.